Για περισσότερες πληροφορίες για τις RBS μπανέλες και το κόστος τους επικοινωνήστε μαζί μας.
Tapers
Flex
Compression
Reverse Compression
All RBS battens come coded with either "F", "C" or "R" to insure proper batten placement.
Flex Taper
– The flex taper is used on all leech or partial batten sails. The soft tip of the flex batten allows the batten to bend or conform to the shape of the sail without causing a hard spot where the leech batten front terminates in the batten pocket. The flex battens allows for a smooth transition from the sail to the roach/leech supporting battens resulting in better sail shape and increased sail longevity.
Compression Taper
– These tapers are used for full batten jib or mainsails that need a more draft forward position. Compression tapers have a straight line taper from tip to the end of the taper. With this taper, the draft position is more likely to move forward under load producing a draft pocket. This pocket can be manipulated with different compression taper dimensions.
Reverse Compression Taper
– This unique tapering process allows for the front of the batten to be full thickness, essentially reversing the taper. Instead of a conventional up taper, we're tapering down for 15% of the length of the batten to reach it's narrowest cross section where we then climb out to the desired tapered length. Using this tapering technique results in a flatter thus cleaner entry to the sail securing the draft in its proper position. As the wind builds and the sail powers up the entry remains flat, resulting in a stable draft position to maximize power.
New Batten Splice from RBS
A lightweight, low profile, affordable and mobile alternative to long full compression battens. Using a durable thermoplastic housing, the RBS Batten Splice allows for manageable mobility without sacrificing performance and structural integrity.
The specially engineered spliced taper allows for a continuous material thickness throughout the batten length to maintain traditional bend characteristics while not creating a hard spot in the sail.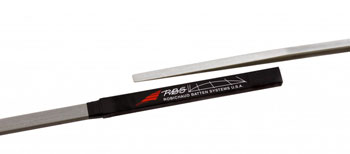 Decreasing the overall batten length by up to 40% allows storage, shipping and mobility otherwise unattainable with full length battens.
Powedercoated Epoxy Backstay Flicker
Using a unique powdercoating technique, we're able to powdercoat our Epoxy E-glass material to provide even more durability through UV and environmental protection. No more exposed glass fibers due to UV degradation, these new RBS Powdercoated Epoxy Backstay Flickers are available in 5 different specifications.
PC-E 15265/1200mm
PC-E 15300/1700mm
PC-E 19265/1200mm
PC-E 19350/1400mm
PC-E 19400/1800mm
Easily modifiable to fit most any hardware, these pieces come as non tapered, non drilled stock. Like any unidirectional material, when drilled, it's crucial to drill from both sides to eliminate the potential for fiber blowout. We're excited to have these in production and ready to offer sailors a backstay flicker that provides three times the life span vs a non powdercoated backstay flicker.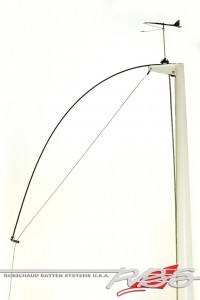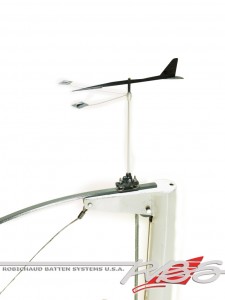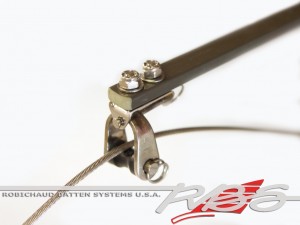 New RBS Roller Batten
Tapered, performance roller battens for any furling application. Using a unique glass integrated, thermoplastic molding process, we are able to build a taper into a roller furling batten. Lightweight and impact resistant, the RBS Roller Battens provide function and performance. Using an updated fiber orientation and formulation continues to improve the structural integrity and performance capabilities.
Offered in lengths of 50cm, 60cm, 70cm, 80cm, 90cm, 100cm and 120cm and in three different stiffnesses, "Light" "Standard" or "Heavy" you can customize your sail profile.
RBS Suggests for cruising, or cruise/racing to use our Light primarily, or Standard for heavier wind conditions. For larger boats, or serious racing applications, we suggest our Standard and Heavy rollers. Please note the minimum furled diameter listed below. With a functional operating temperature of -60 to 360 degrees Fahrenheit, the RBS Roller Battens can withstand harsh conditions. The minimum roll diameter for RBS Roller battens are between 3″(8cm) – 6″(16cm). Keep the sail furled to meet these minimum diameters when the battens are being used.
Yellow/Light (cruising) minimum rolled diameter = 3″/ 8cm
Blue/Standard (cruise/racing) minimum rolled diameter = 4.5″/ 12cm
Red/Heavy (racing) minimum rolled diameter = 6″/ 16cm
For best performance and longevity, the roller battens should be orientated to not roll on top of themselves when furled.
IMPORTANT: To enable proper furling, the Roller Battens will be marked with a colored tab indicating the Aft/back, and the RBS Logo sticker will indicate the side of that batten that needs to be placed on the inside of the roll when furled. Our new sleeves also have blue threaded stitching to indicate the inside of the batten. Reversing either of these will disable a proper furl and can potentially lead to failure.
RBS suggests removing the roller battens from the sail when not sailing to ensure a longer and more responsive life. The longer period that the roller battens are kept rolled up, the longer it may take for them to regain their proper unfurled shape. This is normal.